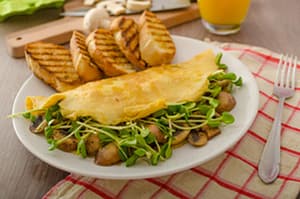 Easy recipe: 20 minutes for preparation – 5 minutes for cooking. Yield 2 servings
Ingredients
4 large eggs
1 tablespoon of butter
450g sliced mushrooms (any assortment)
125g of your favourite cheese
1 tablespoon olive oil
1 clove of garlic
25 grams of microgreens
Salt and pepper to taste
Mushroom preparation
Slice 450g of mushrooms.
Heat 1 tablespoon of olive oil in a frying pan over medium-high heat.
Add the mushroom and cook until all liquid evaporates.
Add 1 garlic clove minced
Seasoned with salt and pepper to taste
Omelette preparation
Crack 4 large eggs in a bowl
Beat the eggs with a fork.
Add salt and pepper to taste.
Heat a large frying pan over medium-high heat.
Melt 1 tablespoon of butter and swirl in the pan.
Pour the beaten eggs into the pan.
Quickly swirl and shake the eggs to cover the bottom for about 30 seconds 
Once the eggs firm up on the bottom lift the edges of the omelet up to let the uncooked eggs run underneath the omelet.
Sprinkle the sautéed mushrooms and 125g of your favourite cheese on half of the eggs.
Let cook for an additional 30 seconds
Add 25 grams of microgreens on the eggs and flip the omelette in half.
Slide into a plate.
Garnish with toasted baguettes, if desired.
Enjoy!